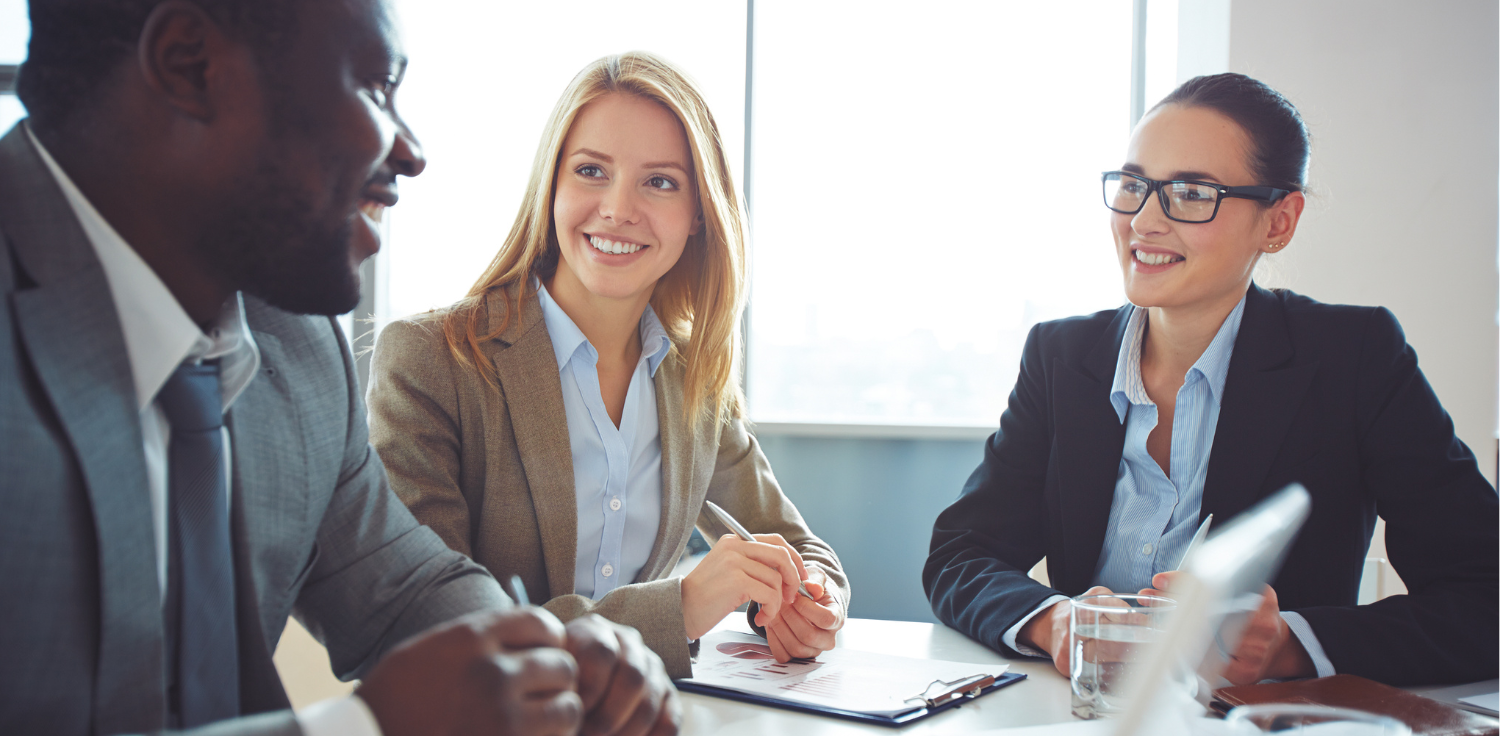 Keeping you in excellent working order
"Our relationship with Trinity has continued over the past 23 years; Trinity constantly strive to improve the service they provide and we wouldn't hesitate in recommending them to anyone who is in need of a professional, consistent and high class recruitment service. " ✰✰✰✰✰
---
"Trinity have proved a company with diverse competence, they are a delight to work with and I have no hesitation in making this recommendation. " ✰✰✰✰✰
---
"In the short time we have worked together, I have been very impressed with the professionalism, efficiency and courteous manner in which Trinity carry out their day to day operations… their effective organisation, provision of agency workers, excellent communication at all levels and professional presentation being particularly noted…
….when there is an upturn in business, I would have no hesitation in requesting Trinity to provide us with quality personnel for our business demands." ✰✰✰✰✰
---
"…about 8 years ago when we first started using temporary staff, we had some absolute
disasters! The agencies we used at the time did not listen to our needs and sent the first available workers to us regardless of their skills or personal circumstances.
We then discovered Trinity Personnel who since then have given us an excellent service from providing reliable, well-informed shop floor assemblers, to sourcing highly skilled personnel at management level.
What I like about Trinity is the importance they give to keeping us informed at all times. By their very nature, agency staff – especially unskilled labour, can be unreliable but Trinity manage to get committed and responsible people on their books. I would put this down to Trinity's thoroughness in assessing people and their ability.
Trinity is a friendly, caring and efficient company and I would recommend them to anyone looking to expand their workforce." ✰✰✰✰✰
---
"Trinity Personnel have been easy to work with, from the initial request which was met with a friendly and helpful voice, that proved to be thorough thus ensuring we received an appropriate temporary staff member.
We have been very pleased with the quality and efficiency of the staff supplied by Trinity Personnel.
All documentation has been clear and succinct with our Trinity Personnel contact, maintaining close links to ensure that we have been happy with the service provided.
Highly recommended." ✰✰✰✰✰
---
"I have been using and working with Trinity Personnel for over 15 years for most of my permanent and temporary staff recruitment requirements…during this time I have also given opportunities to other personnel agencies but in my experience, Trinity have normally provided the strongest candidates.
I have always found Trinity Personnel are consistently eager to please by "going the extra mile" to totally understand our company needs and to maintain a constructive customer / supplier relationship. With this understanding we are able to shorten the recruiting process by only interviewing candidates with the right credentials and personality to fit into the culture we are developing…
This method of recruiting has so far been very successful and will continue in the future as some of our best people have arrived through the Trinity route." ✰✰✰✰✰
---
"I have been working with Trinity since 2008 when they assisted in the recruitment of a temporary member of staff in our warehouse, who later became a permanent appointment. This was an encouraging sign for us as it showed that Trinity retain such a high calibre of conscientious staff for such temporary placements.
Since then, and as our business has grown, Trinity have worked with us to initially supply further temporary staff for our warehouse functions and I am delighted to say they have all become permanent members of staff.
In other areas Trinity have proved a company with diverse competence as I have sought their assistance in other roles where that have offered staff for consideration. These have been specialist roles where I have also sought assistance from "specialist recruitment companies" in other areas of our business, such as Technical Sales and Financial Controller roles. In both cases Trinity offered candidates that were fully vetted and only the candidates that best met our brief were put forward. I am delighted to say that we have subsequently employed these members of staff to fulfil these roles.
Trinity Personnel are a delight to work with and I have no hesitation in recommending them." ✰✰✰✰✰
---
"Over the last five years we have used Trinity Personnel and found them to be very good at finding the correct person for the vacant position.
Trinity try to find out as much as possible about the company and the vacant position before the selection process begins, this in turn leads to a much healthier success rate. This is not the case with lots of temp agencies who send unsuitable candidates and do not take the time to investigate vacancies or the candidates.
Trinity run a very committed team of staff that are genuinely trying to do their best for your business. I would have no problem recommending Trinity." ✰✰✰✰✰
---
"Over the last eight years in my senior management roles, I have come into contact with many employment agencies, with the majority of these promising much but delivering little.
To my good fortune Trinity Personnel was already established and well regarded at my company when I arrived in 2008. To my surprise this is an agency that actually does what it says:-
• Visits the work and meet the relevant staff members
• Tour the works to establish the different tasks, working conditions and skill sets
• Interview all suitable candidates in person and gain references
• Conduct regular on-site reviews
• Regular updates during the recruitment process (good or bad news)
This is not the standard 'run of the mill' agency, but one that excels with exceptional, professional, and not least friendly staff.
Over the last two years, Trinity has played the leading role in increasing our workforce by 30% across all disciplines (labourers, operators, maintenance, engineering, quality, graduates, clerical, supervisors and managers).
The excellent work carried out by the Trinity Team has not gone unnoticed, so from our company, it's a very big thank you." ✰✰✰✰✰
---
"As with any business, our people are our biggest asset. Trinity understand this more than any other recruitment agency I have ever worked with. Through quality communication and site visits, they understand our company, its strengths, weaknesses and demands for future growth, so that when I approach them with a vacancy, they fully understand the type of person that would suit our organisation. As a consequence of this our recruitment decisions are difficult as we are always presented with high quality, well-matched candidates.
Over the last two years we have successfully recruited via Trinity, for a variety of roles including Finance Manager, Sales Co-ordinator and various shop-floor personnel. All are now important, key members to our team.
As we start looking forwards, anticipating further growth, I do so with confidence in our recruitment abilities because of the partnership we have with Trinity." ✰✰✰✰✰
---
"Our association with Trinity Personnel started in 2014, shortly before we relocated our business. Its been a period of upheaval followed by rapid expansion, which I can honestly say would have been significantly harder without the help of Trinity. They have listened to our requirements and have shortlisted credible candidates. On occasion, they have been able to react very fast to fulfil our needs – one of our key employees was recruited on the same day we made our enquiry with Trinity!
Trinity have helped us to fill the positions of Buyer, Accounts, Reception as well as shop floor positions. They are always polite, helpful and competent and I am happy to recommend their service." ✰✰✰✰✰
---
"I have been using Trinity Personnel for our permanent and temporary recruitment for the last two years, with outstanding results. Previous to being recommended Trinity Personnel, we had been struggling to recruit for reliable staff with the skills that we required.
The professionalism and honesty of all of the staff at Trinity has helped provide us with an excellent service. They really go the extra mile to understand our business and what our roles entail.
Other agencies have bombarded with us with irrelevant CV's and candidates, however Trinity always make sure that they shortlist and speak to each candidate, so that we receive only the best quality and most relevant candidates from the applications.
It is a pleasure working with Trinity, and the help they have provided us in recruiting Design Engineers through to Press Operators has been invaluable.
I would not hesitate in recommending Trinity Personnel to any employer looking for quality and honest service…" ✰✰✰✰✰
---
"We have always found the staff to be friendly but professional and they always do their utmost to provide us with the staff we require, even at short notice. Having visited our site on several occasions, they understand our requirements and therefore are able to find candidates to suit our business needs
We have dealt with other agencies but have not found them comparable to Trinity Personnel. We hope to continue our relationship with them for the foreseeable future and would not hesitate in recommending them." ✰✰✰✰✰
---
"We have been working with Trinity Personnel for approximately 16 years. During that time we have been supplied with personnel in a variety of roles, both on an industrial and commercial level, on a temporary basis.
The staff have been friendly and efficient, an always keen to assist.
The personnel that have been supplied are of a good standard, and the last person that we took on from Trinity on a temporary basis impressed us so much they offered a permanent position.
For these reasons we will continue to use Trinity in the future and would definitely recommend them." ✰✰✰✰✰
---
"We have recently used the services of Trinity Personnel as we had an urgent requirement for a Caretaker. Within 24 hours they had advertised and found an extremely suitable and efficient person who came to meet us prior to his almost immediate commencement.
We have found them to be a very effective organisation and understanding our needs.
I can recommend them to assist with any personnel requirements." ✰✰✰✰✰
---
"Unlike other agencies we have dealt with, Trinity have made the effort to understand the needs of our company with site visits and frequent calls but without becoming a nuisance.
The staff are friendly and efficient, always keen to assist above and beyond what it expected.
The personnel they supply are of a good standard and it is rare that we have to interview more than one person as they know our requirements and always send the most suitable person first which saves a lot of time end effort. They then regularly check on the progress of staff to ensure they are performing as expected.
We will continue using Trinity for the foreseeable future and I wouldn't hesitate in recommending them." ✰✰✰✰✰
---
" Trinity are an Agency that actually does what they say. This is not the standard 'run of the mill' agency, but one that excels with exceptional, professional, and friendly staff." ✰✰✰✰✰
---
"Due to our unpredictable short-term spikes in demand, we have often had to call on up to 20 to 25 people to help clear our work load and Trinity Personnel have always managed to supply us with the staff we need, often at very short notice. The quality of the personnel that have been sent has always been very good and any problems or issues that have arisen, Trinity have dealt with swiftly and efficiently." ✰✰✰✰✰
---
"We have been dealing with Trinity Personnel for around ten years. In the past we have generally been disillusioned with staff agencies having been let down in terms of quality of staff and/or reliability.
We find Trinity have consistently been able to come up with the quality and number of staff that we require where other agencies have failed. 80% of our production staff have now come via Trinity Personnel. We do not use any other agencies and can recommend Trinity Personnel unreservedly." ✰✰✰✰✰